3 week Thermalist Cure™ - online



Become a Thermalist® - with Dr. Susanna Søberg
Learn to use cold and heat exposure and functional breathing in a safe and healthy way!

Join this online course - no matter where you are in the world. Watch the videos when it suits you!


It's
bite-size,
easy to follow

Money back guarantee the first week, if you're not satisfied.
Languages: English
Duration

3 weeks bite-size.
+ 5 hours video content
Easy to follow

Tools

The Thermalist
mini handbook (PDF)

Video

Life time acces to the online course. Repeat the exercises as many times as you like.

Level

Beginner. Layman language.

Q&A
with Dr. Susanna Søberg



Learn. Rewatch.
Practice at home.
When you want.
In your own pace.
Stress up to stress down - it's healthy and easy with this 3 week bite-size course.
Money back guarantee the first week, if you're not satisfied.
You will get knowledge, advice and practical guidance you have never heard before - backed by science.
Take this opportunity to get invaluable guidance from the creator of The Thermalist Cure™.
Dr. Susanna Søberg is a metabolic scientist, stress expert with cold and heat therapy, using breathing to lower stress and inflammation.



Whether you are new or experienced to cold and heat exposure, you will get advice you have never heard before.

You will learn breathing techniques and learn the pillars of The Thermalist Cure™, which is a bite-size and easy to follow health journey in functional breathing, Cold and Heat exposure.
Get an insight into the The Thermalist Cure™ principles.

You will get Susannas Thermalist mini-handbook (PDF) with the fundamental principles for the Thermalist Cure. Use the 3- week course and the book to practice at home.


- + 5 hours video content.
- 3 weeks - bite-size and easy to follow
- The Thermalist mini handbook
- Q&A recording
- The 3 weeks Thermalist Certificate


Level: Beginner and experienced
Every-day language, (ENGLISH)
Our students love the
3 week course w/ Dr. Susanna Søberg
I recommend this course to all!
The "bite sized" videos were very easy to follow and fit into my schedule. I think the information was well laid out and organized. The major strengths of the course is the science backed education about cold water and heat exposure, the value of breathing on nervous system. Soeberg talks about science backed findings, and it's easy to follow.
I began my Thermalist Journey in December of 2022. I wished to gain more in-depth knowledge so that I could improve my techniques. I was particularly interested in Dr. Soeberg's breath work teachings, this was where I was lacking the most direction and experience. The course was easy to follow with wonderful exercises. I'm very happy with the information that I gained by taking this course and it further supported my desire to continue living as a Thermalist.
Meagan
Rating: 5/5
5 out of 5 ! The bite-size nature of the video instructions made it really digestible and easy to pick up in manageable learning modules. Good balance of the scientific background and research to underpin the benefits and practical applications.
I would recommend this course to anyone interested in improving their physical and mental health through the most natural and readily accessible heat and cold therapy. This could be genuinely life-changing for those willing to commit the three weeks needed to create new habits that lead to the Thermalist lifestyle. Brilliant!
Jane
Rating: 5/5
Such a pleasure taking this course!! Just brilliant presented and easy to follow and do. I rate it 5 out of 5! I love the bite-size library of content. I could do it in my own pace, and rewatch, which fit my worklife.
Dr. Soeberg really made a well-balanced course of both theory and practice - you know why this is good and then how to do it. The thermalist cure is really a lifechanging approach! Eye opening course. Thanks to Dr. Susanna Soeberg for everything you do.
William
Rating: 5/5
The Thermalist CureTM
The Three approaches
1. Functional breathing
• Calm the nervous system
• Reduce stress and anxiety
• Reduce breathlessness
• Get deep and quality sleep
• Improve bloodcirculation
• Improve health in the long term
2. Cold exposure
• Create better resilience
• Reduce stress and anxiety
• Improve mood and happiness
• Prevent lifestyle diseases
• Increase metabolism
• Increase longevity of your cells
• Increase brown fat
• Get warmer and more comfortable in the cold
• Reduce acute and chronic pain
3. Heat exposure
• Increase mood and happiness
• Reduce inflammation in the body
• Reduce acute and chronic pain
• Improve heart and cardiovascular health
• Increase metabolism
• Prevent lifestyle diseases
• Increase your fitness-level
• Increase your recovery after workout
• Improve lungfunction and lower the risk of infections
Thermalist mini handbook (PDF)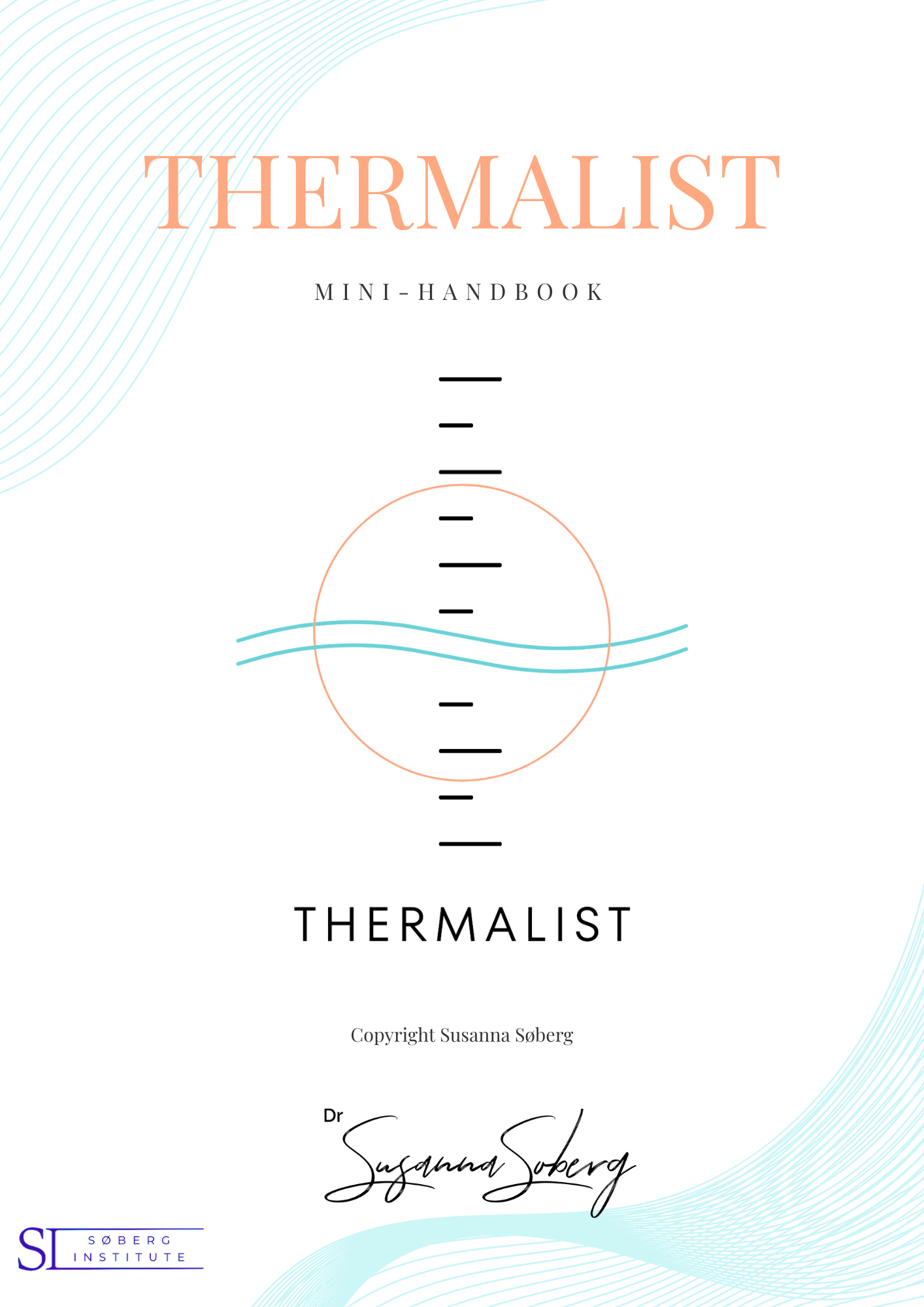 Your weekly programs and advice from Dr. Susanna Søberg

The Thermalist mini handbook (32 pages)

Gives an overview of your weekly programs

Important safety advice

A journal and tables to track your progress

Space to write your notes in the back of the book

Supportive information to back up the video content
Week 1
How to get started with cold and heat exposure
How not to over-stress your cells and cardiovascular system with cold and heat?

Learn how to control your nervous system and lower acute stress using your breath.
Build a long term better breathing pattern to lower chronic stress in your body.
How and why you should get started with cold water immersion and different cold exposure.
How to breath before and in the water
Learn The Soeberg Principle and Dr. Susanna Søberg's science.
What is a thermalist?
The effects of the cold and heat shock on body and brain.
Week 2
Exercises to lower stress on a long-term.
Benefits of microstress
Why is microstress and brown fat healthy?

What is the brown fat and how does it help you prevent disease?
How do you lower inflammtion and achieve a higher stress threshold with breathing, cold and heat adaptation?
Week 3
Breathing exercises
You will continue to learn how and why cold and heat lowers inflammation and why this prolongs a healthy life.
How not to over-stress your cells and cardiovascular system with cold and heat.
All together these three approaches lower inflammation – the number one root cause to modern health diseases: heart diseases and cardiovascular diseases.
Course Lessons
released every week
3 weeks Thermalist Cure course
- with Susanna Søberg, Ph.d
I will teach you the Thermalist approach, which is healthy and safe. Easy to follow.
Q&A: Your questions answered by Susanna

Certificate: Get your Thermalist certificate.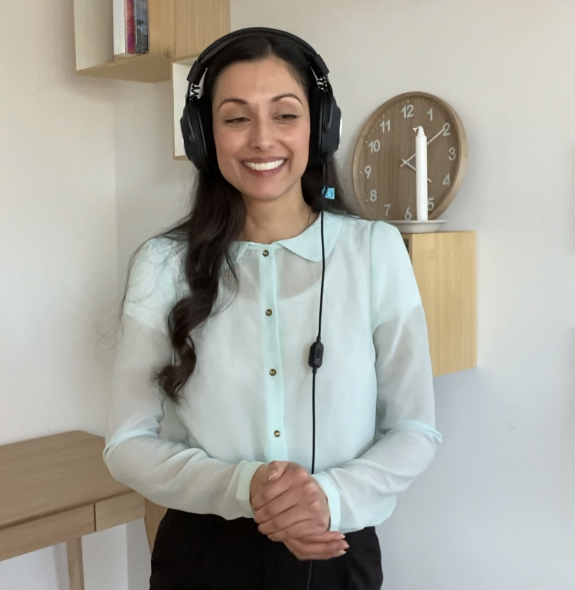 Get your official Thermalist Certificate!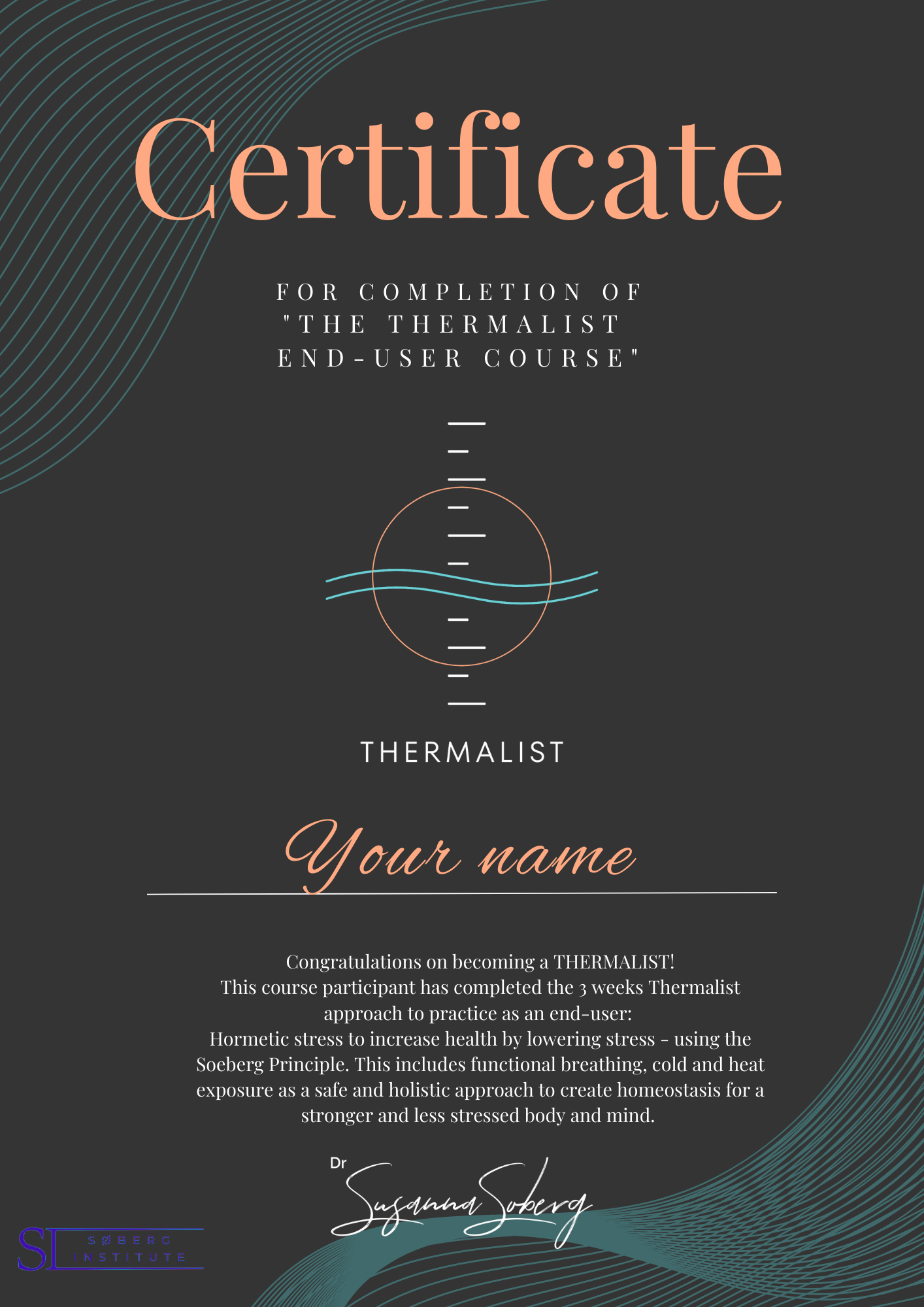 What you get out of your 3-weeks Thermalist Cure course?

Learn to use different modalities of cold and heat exposure

Learn to practice healthy stress

A less stressed mind

Less chronic inflammation

Lower blood pressure and heart rate

Increased metabolism

More energy and positivity in your everyday life

Prevent burn-out

Less shortness of breath

Increase your mood

Learn how to become more focused and concentrated

You will become warmer - both physically and emotionally!

Becoming a warmer person will lower your physical and mental stress

Increase your window for stress

Increase your ability to relax in stressful situations

Improve your sleep – all three approaches will affect your health in overlapping positive ways.

You strengthen your cells – repair them and slow their aging process.

You become stronger physically and mentally

Increased longevity


The list goes on...

Knowing how and why is key when using natural stressors. Get your offical Thermalist diploma for attendence and learning the healthy way of practicing stress, by Dr. Susanna Søberg.
What's included in this bite-size 3 week course?
What you will get
Weekly release of video content.
Watch and learn at your own pace. + 5 hours video content.
Weekly programs
to practice.
Life time access
to this course. Practice the principles at home. Repeat the programs as needed.

The Thermalist Cure™ mini handbook as a PDF with Susanna's principles, protocols and your weekly programs.

40 minutes live Q&A after the course (remember to book your seat)

Diploma: A 3 week Thermalist Cure Course certificate for learning the most healthy way to use stressors to build yourself stronger!
Learn about The Thermalist Cure™
It will get you the skills to start using cold, heat and your breath to improve your health.
The Thermalist Cure™ is based on scientific evidence to develop a safe and efficient way to make you stronger in your body and mind so you can live life to the utmost!
This is a toolbox to practice at home on how to destress and get healthier.

Money back guarantee the first week, if you're not satisfied.
The three approaches
The Thermalist Cure™
Breathe, Freeze & Sweat...
These three approaches are wonderful together. Let me show you how.
With this class you get an insight into The Thermalist Cure. You can get better, so start investing in yourself. You will build a healthy breathing pattern to get better sleep, be more relaxed and more focused to achieve better performance. You will get a quick guide on the benefits and tools of using the cold and heat to optimize your health.

In this class you learn what functional breathing is, the benefits of cold and heat and how to integrate this into your life. You will learn how to do this in a safe and beneficial way. Use this routine and you will experience improvements in your health and feel more mentally balanced.


Susanna Søberg, PhD
Scientific studies show, that inflammation is the root cause of most modern lifestyle diseases. There are natural ways to lower inflammation and stress. Breathwork, cold and heat exposure are very potent and efficient approaches - and they are natural. When you learn the principles of how and why, it will benefit you for the rest of your life.
Optimize your breathing with the 3 week thermalist Cure course
7 signs that you have a dysfunctional breathing
Play the video and check how many of the signs you have
In this course you will get the tools to change a dysfunctional breathing.
Hans Seyle (1907-1982)
Scientist and pioneer in the undertanding of human stress
"It's not stress that kills us, it's our reaction to it"
Why should I take this course?
Learn the principles of The Thermalist Cure in this easy to follow bite-size course.
It's a science backed non-pharmacological way to improve health and prevent lifestyle diseases. It works on your biochemistry, physiology, mental health and confidence.
We all start at different levels. Susanna's signature Thermalist Cure

TM

can help you increase your physical and mental health.
Boost your mood, increase your fitness, increase your metabolism and strength. You will improve all this with the program - and at your own pace. Take the class at home and when it suits you.
The purpose is to feel less stressed. To control your nervous system. To get better sleep and be more relaxed. Learn how to control your mood. Increase your energy level. To perform better and be more in balance in your body and mind.


Disclaimer
Take care of yourself
Avoid starting up cold water immersions if you suffer from:
• Untreated coronary artery disease and/or chest pain (angina pectoris).
• Untreated high blood pressure.
• Serious heart rhythm disturbances.
• Careful if you suffer from panic attacks. The cold shock can be very overwhelming for the nervous system. I advice you to go with an educated Thermalist Cure Instructor who has the an sciencebacked education and certified to guide you (education available soon...).

Cold water immersion is a physically challenging activity and, as with all physical activities, it carries a risk of personal injury. As such, it may not be suitable for everyone. If you are unsure whether cold water immersion and contrast therapy is appropriate for you, you are advised to consult a doctor before participating.
Dr. Susanna Søberg
Dr. Susanna Søberg holds a PhD in metabolism from Copenhagen University and Center For Physical Activity Research, Rigshospitalet. She is the founder of "Soeberg Institute" and "The Thermalist cure".
Susanna is an international expert and scientist in cold and heat therapy to reduce stress, improve sleep and optimize performance. She uses science-based tools as the basis for her health programs. Breathing as way to lower stress, has been part of her research in cold water immersion and sauna. As an Oxygen Advantage Instructor, she is a certified breathing instructor and uses breathing techniques to empower people to get the best out of life. The science behind the positive effects of functional breathing is profound and proven to be fundamental to our health and performance - in your life and at work.
\Learnworlds\Codeneurons\Pages\ZoneRenderers\CourseCards
The 5 star rated 3 weeks Thermalist course
"Nothing like this out there! I'm amaced. The Thermalist Approach is really a new way of optimising your health. Congrats Dr. Soeberg - and thank you for making this!"
Welcome to my newsletter - sign up below
Now we're talking! Join the community!
Created with